Pune To Goa Car Hire Services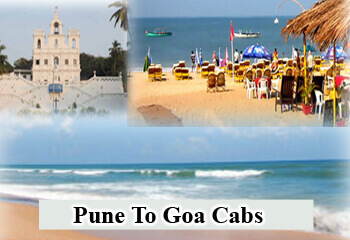 Pune To Goa Cabs Best Lowest Deals in pawar travels goa packages from pune.Goa is considered as one of the best places when it comes to tours. The first things that comes in your mind when you plan a tour to Goa are blue waters, coconut trees, cashew nuts, water sports , cruise parties, long drives . This is a perfect leisure spot where you can get peace of mind. If you are looking for a Beach destination we have Goa which is approximately 460Kms from Pune.
With various beautiful beaches, beautiful landscapes, old Forts, Churches and coastal food, Goa stands at top in our list to beach destinations. Being a place which attracts tourists for whole year and having many beautiful locations, we here at pawar travels are always keen on providing our customers with different attractive Goa packages from Pune that can fulfil all requirements at unbelievable costs.
Pawar travels provides you with all the required travel comfort with our best collection of vehicles that indeed make your trip a memorable one.Pawar travels offers cabs services from Pune to Goa. We take pride in providing comprehensive travelling packages to our customers. One can choose Pawar travels as it offers one of the best packages for Goa and it is viewed as number one by the customers.
We offer vehicles of customers choice. Customers can choose any vehicle from our list of best vehicles in industry.We have a team of experienced drivers who are always keen in providing a formidable outing to our customers by way of being Polite, punctual and presenting decent behaviour throughout the tour. We believe in customer satisfaction.
Book Pune To Goa Cab